How Nonprofits Can Use Facebook and Twitter to Drive Engagement
Nonprofits organizations are hugely benefiting from social media more than ever before.  Smart nonprofit executives are crafting compelling information and telling their story to the world directly via the Web.  There's no doubt that getting the word out about an fundraiser, volunteer event is much simpler when you can rely on social media sites like Facebook and twitter.  the Web allows any organization to reach buyers directly.  This power is clear to nearly everyone these days, but many executives still struggle to find the right way to engage with their audience.
Below is a synopsis of a blog post written by Taylor Corrado entitled How Nonprofits Can Use Facebook and Twitter to Drive Engagement
 Tell your organization's story over and over again.
Don't be afraid to re-tell your nonprofit's story to your audience and let them know exactly what you do and what you stand for.  Remember your goal is to get your messages in front of new people everyday.  Also encourage your audience to share their experience with your organization.
Be sure you fully understand your audience.
Understanding who your audience is on each platform is very important when it comes to what and how often you post.  Know your stats and current engagement on your social platforms.  Which network gets the most engagement.  Are you getting more traffic back to the site on Facebook or Twitter.  You don't have to be on all the social media sites to make an impact on your goals.
Make sure everything you post is highly engaging.
Ensure each post is share-worthy, well-branded with your logo and/or hashtag, and always includes a link back to your website.  Here's an example of a great Facebook post.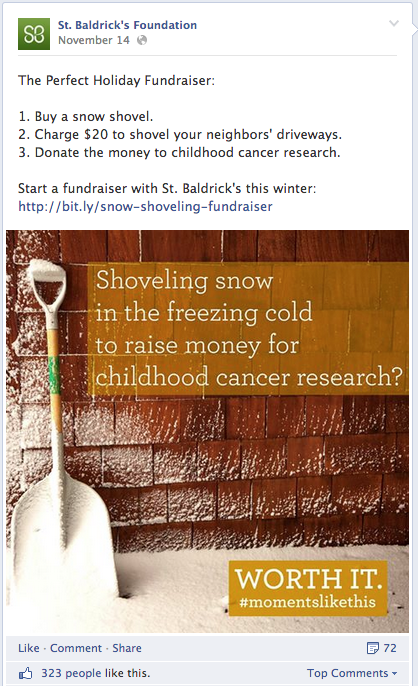 Don't be ashamed to make an ask, especially at the end of the year.
Let's be real: You're a nonprofit trying to raise money.  Don't be afraid to ask for money in your social media posts; just don't use every single post to do so.  Mix it up by adding light-hearted posts that support your initiatives and educate your audience.  Then sprinkle in some donation asks.
Make a "back-channel ask."
Take note of the most engaged supporters and reach out to them directly to tell them about a new campaign or story and ask them to share it with their networks before it launches. This allows your team to secure an audience even before it launches a new campaign. If these individuals have large networks themselves, they'll guarantee a big reach for the new campaign.
Track everything, be data-driven, and stay informed.
Track every single post that you make by tracking the post that's included on your Facebook or Twitter post.  This will provide you with the much needed intelligence of which posts drive donations, volunteer signups, newsletter subscriptions, blog readers.  This also tells you what is and isn't working so you can make the necessary in-flight corrections.
Coordinate with offline efforts.
Make sure its messaging, branding, visuals, and media are aligned on all channels, including email, direct mail, social media, and webpages.  Don't forget about your offline messaging as well.
Communicate and be social with your audiences.
Your audience wants to know that there is a human on the other side of your social media channels. So, make sure you communicate with those who like, comment, or share your content.
For instance, you should respond to tweets and retweets and say thank you.  If you have the twitter handles or profile pages of your supporters you should reach out and say "thank you for your support this year"
Free Facebook Marketing Cheat Sheet For NonProfits
This cheat sheet helps you understand how to use Facebook for lead generation, and gives you some quick action items and best practices that you can use in your marketing right away.